When Signals Align
Netflix Inc. (NFLX) is another instance where signals from Portfolio Armor and LikeFolio have aligned. At the end of October, the stock hit our top names, as I noted at the time,
And at the end of December it was one of our top names again, so I bought shares of it as part of our core strategy. It's up about 17% since then, after Friday's post-earnings move. Let's talk about a couple of reasons why investors may be warming to Netflix now.
Netflix Cements Its Lead In Streaming
Before Netflix released its earnings on Thursday, LikeFolio shared this chart with those of us on their email list: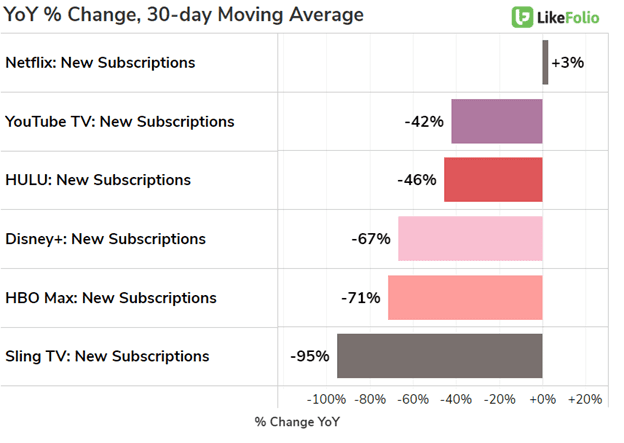 Although, as LikeFolio notes there, new streaming subscription rates are falling across the industry, Netflix has been bucking the trend.
Netflix Earnings Were Better Than They Looked
As Michael Pachter noted, their GAAP profit was wiped out by their markdown of a euro-denominated bond, their operating profit beat their guidance by a big margin.
Bear Market Risk In Mind
Although Netflix is doing well, as Carter Braxton Worth of Worth Charting has pointed out, the broader market is currently near an inflection point.
And if the market drops, Netflix shares will almost certainly drop with it. It might be a good time to hedge Netflix if you own round lots of it, or to hedge market risk via optimal puts on the SPDR S&P 500 Trust ETF (SPY) as in the example below.
If You Want To Stay In Touch
You follow Portfolio Armor on Twitter here, or become a free subscriber to our Substack here (we're using that for our occasional emails now).