Second Only To Soros
It turns out that Sam Bankman-Fried has had an even more eventful week than most of us thought. In addition to apparently blowing up billions of dollars of investors' and depositors' funds, the man some Twitter wags are now calling "Sam BankRun-Fraud" was also the second largest individual donor to Democrats in the 2022 midterm elections, after George Soros.
Quite The Heel Turn
It wasn't long ago that Sam Bankman-Fried was acclaimed for his generosity, a genius nerd who only wanted to make a lot of money so he could donate it to charity.
He certainly was generous with his election spending. Perhaps we will be able to judge what kind of ROI he got from that by the severity of the consequences he faces for the FTX fiasco. In the meantime though, in addition to costing his investors and depositors money, he has hammered bitcoin holders. Let's look at a way some of those holders were able to hedge their downside risk.
Using A Bitcoin ETF To Hedge Bitcoin Exposure
Back in October of 2021, when options first started trading on the ProShares Bitcoin Strategy ETF (BITO), I wrote a post about using it to hedge bitcoin exposure (A New Way To Hedge Bitcoin Exposure). At the time, bitcoin was trading near its all time highs, so I addressed the question of why bulls ought to consider hedging it: 
Why Hedge If You're Bullish On Bitcoin?

In a nutshell, because Bitcoin is likely to have another steep pullback in the future, and if you own puts on the Bitcoin Strategy ETF when it tanks, you'll have dry powder in the form of appreciated put options to buy more of the ETF, or more Bitcoin itself.
Finding Optimal Hedges On BITO
In the video below, I used our iPhone app to demonstrate how to scan for optimal hedges on the Bitcoin Strategy ETF.
How Hedging Helped Bitcoin Longs
Since I posted that video, both bitcoin and the Bitcoin Strategy ETF have lost more than 72% of their value. 
Let's look at how far down you'd be if you had held bitcoin or the ETF tracking it and hedged. This was an optimal collar we presented to hedge against a greater-than-25% decline in 500 shares of BITO by January 19th of 2024.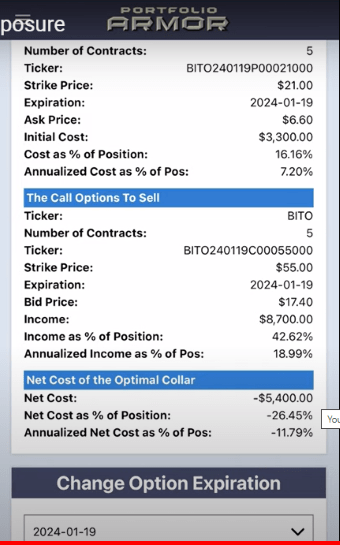 With this hedge, you would have been down close to 25% on your BITO/bitcoin position on Thursday, rather than being down more than 72%. While being down 25% is no picnic, recall that a 25% loss only requires a 33% gain to get you back to even, while a 72% loss requires a ~257% gain to get back to even.
If You Want To Stay In Touch
You can follow Portfolio Armor on Twitter here, subscribe to our occasional email list here, download our hedging app here, or visit our website by clicking the image below.