The Red Wave That Wasn't
Since we're not as competent as Brazil at counting votes, we still don't have full results for the 2022 U.S. midterm elections, but suffice it to say, the expected red wave did not materialize Tuesday night. The GOP's underperformance nationally, including by some Trump-endorsed candidates, combined with Governor Ron DeSantis's landslide re-election in Florida, had some commentators saying DeSantis rather than Trump would be the GOP nominee in 2024.
It seems a bit premature to put that crown on DeSantis, but my guess is that Tuesday night's results won't be good for Digital World Acquisition Corp. (DWAC) shares (Readers may recall I bought puts on DWAC earlier in the week, for reasons I laid out here.).
DWAC Update: My guess was right.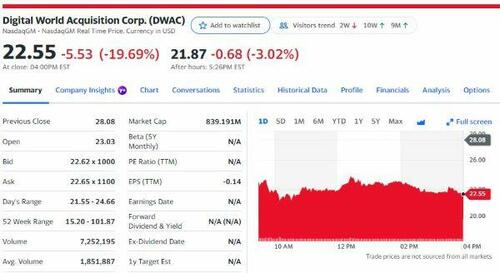 So far though, the midterm results have raised more questions than answers. Below are several that come to mind.
Questions Raised By The Results
Update: The Fraud Factor
A couple of comments suggesting fraud or other improprieties may have played a role in the results. First, by Trevor Lee, the former Trump staffer who won his election to Congress yesterday, noting Florida's unique efforts to secure the election:
And second, by independent liberal journalist Michael Tracey, referring to a report that dozens of polling places in a county where Mehmet Oz was leading somehow ran out of paper and turned voters away.
If You Want To Stay In Touch
You can follow Portfolio Armor on Twitter here, subscribe to our occasional email list here, download our hedging app here, or visit our website by clicking the image below.