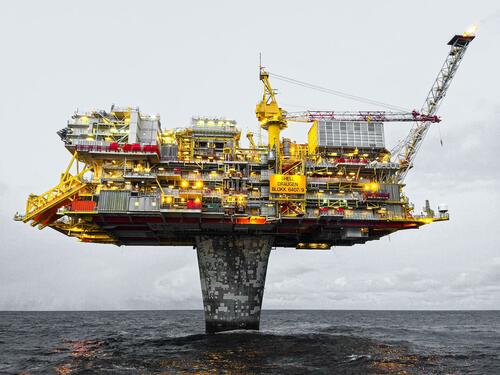 Europeans Sanctioning Themselves
A point we made in a recent post (Have Western Sanctions on Russia Failed?) is that Western sanctions on Russia have backfired on the West, and on Europe in particular.
On Tuesday, we got more evidence of that, as power prices hit all-time records in four of the largest economies in Europe, as well as in the Nordic countries.
Oil Versus Natural Gas
As expensive as North American natural gas has been, $9.36 per million British Thermal Unites (MMBtu) as of this writing, it's been dirt cheap compared to what Europe's been paying. They use different units there, so let's compare both in Megawatt Hours (MWh). 1 MWh equals 3.41MMBtu. So at $9.36 per MMBtu, we're paying about $54 per MWh.
Since Germany is paying more than 10x that now, assuming they want to maintain their sanctions on Russia, the logical move would be to import natural gas from North America. In fact, that's their plan, but that would require importing it as liquified natural gas (LNG), and the infrastructure to accommodate the supplies they would need simply doesn't exist now.
So if they want to stay warm this winter and keep the lights on, the may need to switch to using oil to generate electricity. Even at double the current Brent Crude prices, that would be a bargain compared to what they're paying for energy now.
Positioned For Higher Energy Prices
In an email at the end of June, I mentioned that the new factor we added to our security selection process had us overweighted in energy.
This was the first top names cohort to include the new factor:
Screen capture via Portfolio Armor on 6/24/2022.
Since then, led by the United States Natural Gas Fund, LP (UNG), Direxion Daily S&P Oil & Gas Exp. & Prod. Bull 2X Shares (GUSH), and EQT Corp. (EQT), that top names cohort has significantly outperformed the SPDR S&P 500 Trust (SPY).
On average, our top ten names from June 24th are up 24.32% since then, versus 5.71% for SPY.
Our system doesn't consider the macro picture when selecting these names, but it's encouraging that its picks have been aligned with macro trends. Our current top ten, as of August 23rd, is heavily weighted to energy as well, although it includes a few alternative energy names.
As a reminder, we update our current top names for subscribers on our website and app each day the market ups open.
A Quick Update on a Previous Post
In Tuesday's post, I wrote about the assassination of Darya Dugina.
Early Wednesday morning, as Ukraine's Independence Day dawned, Russian separatists in the Donbas region fired an MLRS barrage at their Ukrainian adversaries in her memory.
If You Want To Stay In Touch
You can follow Portfolio Armor on Twitter here, subscribe to our occasional email list here, download our hedging app here, or visit our website by clicking the image below.